The recipient of the WOW! Educator of the Month for the month of  September was Marcia Hershiser, librarian from Su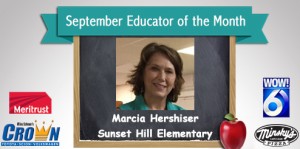 nset Hill Elementary. Marcia has been the librarian at Sunset Hill for several years and has become an essential part of the school. Her colleagues constantly turn to her for creative/innovative ideas to keep their students engaged in their lessons. She continues to refine her craft every year and has even been called on by the school district to offer her expertise. She works behind the scenes with remedial and enrichment groups that help students of all ages. She has hosted authors in the school and has collaborated with all grade levels on project based learning opportunities. It's not uncommon for students to ask to go to the library to spend time with Marcia. Her genuine love for the students has had a lasting effect on many of these students and she has become a favorite of many of them She also organizes school wide activities, bringing students and staff together to increase the community feel within Sunset Hill.
For winning Teacher of the Month for September Marcia received a $100 gift card from Meritrust as well as a pizza party for a class courtesy of Minsky's Pizza. Marcia now has a chance to be selected "Teacher of the Year", win a cash prize for herself as well as her school, and win a free car for a year courtesy of  Crown Automotive.