The Toyota Corolla was one of the best selling vehicles in the US in 2015, but the latest generation of the Honda Civic could be a major contender in the compact segment for the coming year. To keep up with the advancing competition, Toyota has a refreshed 2017 Corolla in the works, and the most obvious change for this recently spi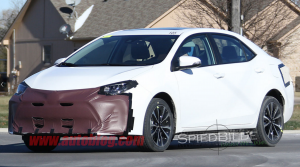 ed example is a new nose that takes inspiration from the Miraihydrogen fuel cell sedan.
This test car has camouflage taped around the front, but the outline of the new grille is still visible. Like the Mirai, it flares downward from the top, and there are big gills at each corner. Toyota's designers also reshape the headlights to give them a smoother appearance. The company masks the taillights heavily on this Corolla, which suggests tweaks to their shape, too.
You can expect Toyota to accompany the exterior updates with some interior refinements and possibly improved tech. It's not yet clear whether powertrain tweaks will be forthcoming. However, we should have a better idea in the coming months because the refreshed Corolla would likely arrive this summer.
Article Courtesy of: http://www.autoblog.com/2016/01/07/toyota-corolla-refresh-spy-shots/#slide-3760923