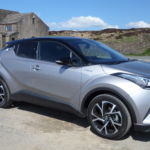 From the Auris and the Avensis to the Yaris and the RAV4, all of Toyota's recent mainstream cars have been depressingly vanilla. White goods. Reliable, serviceable, capable—but as engaging as a washing machine or fridge freezer.
But with the C-HR—an acronym for Coupe-High Rider, if you were wondering—Toyota has built a mass market vehicle with some of the panache shown in more niche models like the GT86, hydrogen-powered Mirai, and new Prius. And all it had to do was take the 2014 Paris Motor Show C-HR Concept and put it into production.
The version we have on test is the 1.8L hybrid. Before you ask, yes, this is basically a Mk.4 Prius with shoulder pads. Like the Prius the C-HR hybrid is a front-wheel drive machine. If you want an all-wheel drive C-HR you'll have to go for the 1.2-litre turbo model.
Drivetrain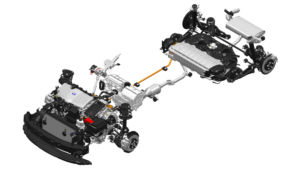 The relationship between the Prius and the hybrid C-HR runs deep. Both use the new GA-C platform which is part of Toyota's New Global Architecture, and both share an identical hybrid drivetrain. There isn't even a massive amount of difference in the dimensions of the two cars. Prius is marginally longer and wider, C-HR a bit taller. The Prius is by far the more slippery though. It has a drag coefficient of 0.24 to the C-HR's 0.33; blame those aforementioned shoulder pads.
The hybrid drivetrain consists of a 1.8L Atkinson-cycle petrol engine (assembled at the Toyota plant in Derby), a 1.31kWh nickel-metal hydride battery, and an electric motor all tied together by Toyota's familiar e-CVT transmission. That combination pumps out 120bhp/90kW of power and 142Nm of torque at 3,600 rpm. On the road that means a top speed of 105mph and a 0-62 dash time of 11 seconds, which is within a tenth of a second of the 1.2L turbo.
Toyota reckons you can get 72.4mpg combined from the C-HR hybrid on 18-inch wheels. For once in a Toyota hybrid I managed to come close to that number, something I dramatically failed to do with the RAV4. Over a week and 600-odd miles I averaged 62mpg without really trying.
Of course, with such a small capacity battery and a 53kW electric motor, pure electric running is rather limited—we are talking a mile or two at speeds below around 40mph. And that's with some determined use of the EV button that forces the system into electric-only drive, even when it thinks it knows better.
Reading Toyota's press release I see that just about every part of the C-HR/Prius hybrid system has been made lighter, smaller, and/or more efficient. Lots of small and rather dull technical changes and improvements seem to have been combined to make a significant efficiency step.
As for the C-HR's 86g/km CO2 output, I'll take Toyota's word for that. For comparison, the Prius manages 70g/km, while the 1.2L turbo C-HR pumps out 135g/km. If there will ever be a plug-in version of the C-HR hybrid—surely not beyond the bounds of possibility considering there is a plug-in version of the Mk. 4 Prius—Toyota is keeping mum about it.
Design and technology
SPECS AT A GLANCE: 2017 TOYOTA C-HR HYBRID
BODY TYPE
5-door hatchback SUV
LAYOUT
Front engine, front wheel drive
POWERTRAIN
1.8L Atkinson cycle 16-valve DOHC, VVT-i petrol engine, electric hybrid drive
TRANSMISSION
Electronic constant-velocity (e-CVT)
HORSEPOWER
120bhp/89.5kW
TORQUE
105ft-lb/142Nm @ 3,600rpm
SUSPENSION
MacPherson strut (front) / Double wishbone (rear)
STEERING
Rack and pinion, electric power steering
TYRES
18in 225/50R18
TOP SPEED
105mph
0-62MPH
11 seconds
BATTERY
6.5Ah/1.31kWh nickel-metal hydride
TOWING CAPACITY
720kg
COMBINED FUEL ECONOMY
72.4mpg
WEIGHT
1,380kg
WHEELBASE
2,640mm
DIMENSIONS
4,360 x 1,795 x 1,565mm (LWH)
INSURANCE GROUP
14E
PRICE
£23,635 (£30,135 as tested)
So much for the technical pleasantries. Now we need to talk about the C-HR's looks. Let me start by saying I think midsize, two-wheel-drive SUVs are just about the most pointless class of vehicle known to humankind. At the end of the day you are getting less interior space than an equivalent five-door hatch, worse fuel economy, stodgier handling, and absolutely no off-road capacity bar a little extra ground clearance. And you are probably paying extra for the privilege.
Clearly I'm out of touch with reality, though, because nearly one in four vehicles sold across Europe is an SUV, and that number is rising. Small to midsize SUVs like the C-HR, Nissan's Juke and Qashqai, Vauxhall's Mokka, and Renault's Captur account for the lion's share of SUVs sold. Pointless they may be, but by God they are popular.
And the C-HR is stylistically the very essence of the breed. Less ugly than the Juke, less anonymous than the Mokka, less rotund than the Captur; the C-HR manages in my eyes to successfully combine the looks of a coupe, an off-roader, and a five-door family hatch.
Across the board the C-HR ticks the aesthetic boxes. The proportions are spot on, and the heavily sculpted flanks look like an organic part of the design rather than an afterthought. Visually interesting details like the louvred tailgate spoiler and C-pillar rear door handles that haven't been hidden to the point of obscurity abound. The nose is impressively distinctive, too; purposeful without being overly aggressive.
The interior of the C-HR is no less a shock to the senses than the exterior. The multi-layer dash and coloured trim line that traverses the doors, dash, and the excellent 8-inch touchscreen display lift the cabin above the usual mundanity. The optional JBL premium audio system, comprising an eight-channel, 576W stereo amplifier and nine speakers is definitely worth having despite the hefty £1,500 price tag.
Once you get over its challenging appearance, the C-HR's cabin is actually a very easy place to get comfortable in. All the controls fall to hand, the footrest is both well placed and well sized, and exterior visibility is good. The seats are very comfortable, too. Rear passengers are less well catered for: leg room is rather limited, and the thick C-pillars make it a somewhat claustrophobic place to sit.
Cabin material quality is higher than the Japanese norm. Apparently what Toyota calls its European Sensory Quality team was involved in the development of the C-HR far earlier than normal. The result is a substantially more Germanic, or perhaps Lexus-like, feel to the cabin.
As you would expect, the C-HR comes with all the modern driver aids, including: the ability to park itself in just about any space; read road signs; warn the driver if you stray out of your lane and correct if you ignore it; adaptive cruise control; and something called Rear Cross Traffic Alert to monitor approaching traffic from either side as the vehicle is reversing.